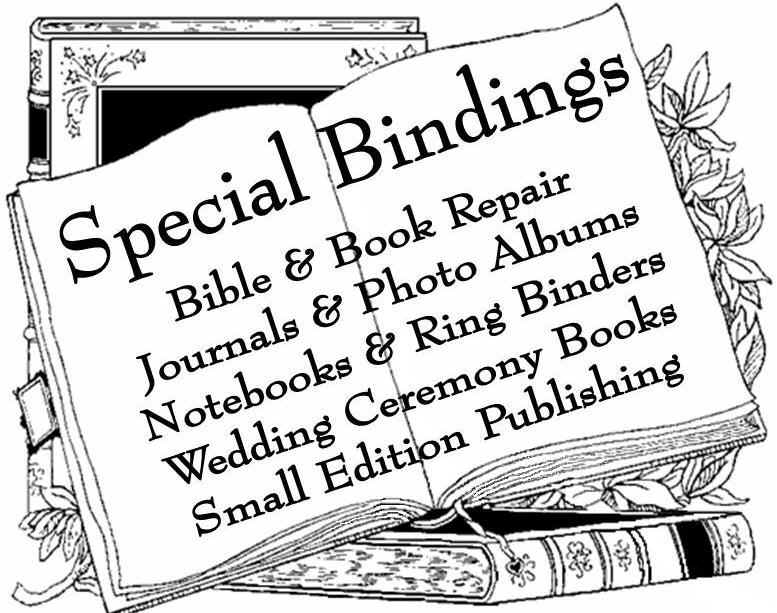 Note:

I can
bill you
for
book repairs
via e-mail
with an
electronic
invoice
by PayPal.

You do not
need to
have a
PayPal
account
to pay
for my
services!

Paypal
accepts
most
credit cards.
I get a lot of compliments
from local customers when
they pick up their books.
Here's an unsolicated letter
from a customer outside the
Twin Cities area:

"The book arrived!! It looks
fantastic! It was more than
we hoped for. We know who
to call if we find another
treasure. Thank you so
much..."

Mike and Donita,
Kansas
Bible & Book Repair
Treasured books such as Bibles, prayer books, books passed on
from family and books with sentimental value from friends
can be repaired and/or rebound.
Each and every book is handled and treated with respect
as a treasured part of your life, whether it be a Bible,
family heirloom, or a very personal, special, precious book.
The art of bookbinding and book repair consists of two
interconnected aspects: structural integrity and appearance.
Structural integrity simply means holding the pages together
while protecting the pages with a covering.
Appearance is the covering material (leather, book cloth, etc.),
headbands (colored fabric at the top and bottom of the spine),
ribbons, cover design or embossing for decoration.
Structural Integrity

Method of Repair

Remove old brittle glue on spine.

Reglue spine with bookbinder's glue (PVA).


Remove the front and back book hinges: "cheesecloth" fabric & endpapers.


Rehinge with heavy cambric fabric
& plain or decorative/marbled endpapers.

Check for loose signatures
(sections of pages sown together)
Reattach and glue loose signatures
to spine.

Appearance*

Method of Repair

Remove old headband
material on spine.


New headbands & 5 colorful
1/8 inch ribbons.


Check for torn pages.


Mend torn pages with clear bookbinder's glue.


Corners of binder's boards ("cardboard") worn down.


Reinforce board corners
with glue/filler.


Old covering material too
badly worn.

Replace with covering material of
your choice & use mitered corners
for additional strength.
* Little as possible will be done to change the appearance
of your treasured book.

Therefore, the book's edges will not be trimmed, nor will the
original boards be replace unless they are damaged beyond repair.
If new cover material is needed, effort will be made to reglue the
spine title/design on the new material. Special requests will be honored.
Prices (Not including USPS Priority & insurance fees if outside Saint Paul/Minneapolis Metro area. Click here about important shipping information)
These prices are guidelines only, as some books may need less work
and would cost less to repair.
Structual Integrity repairs:
When the spine glue is brittle/dried out or missing, scraping off old hide glue, reglueing with PVA glue, and including new plain endpapers:
Regular Size (up to 6 x 9 inches)
$60
Large Size (over 6 x 9 inches)
$80
Extra options:

Regular Size

Large Size

New headbands/ribbons

$5

$5

Decorative endpapers

$15

$25
When the pages are glued, rather than sewn, the old glue trimmed off in a guillotine cutter, and PUR (Polyurethane Reactive) glue is applied:
Regular Size (up to 6 x 9 inches)
$80
Large Size (over 6 x 9 inches)
$100+
Appearance:
(brass corners are $5 extra per book)
Book cloth or
imitation leather or
Japanese book cloth

$30

$40+

Bonded Leather*

$40

$60+

Buckram
(heavy nylon fabric)

$50

$75+

Genuine Leather

$150

$200+

(Premium quality calf, goat or sheepskin)

Gold/silver name embossing on cover: (3 inch limit) $15
* For bonded leather, a Release of Liability form will be required
releasing me from any potential damages done to your book as a
result of the eventual decomposition of the bonded leather material.

For examples of Bible and book repair, click here.

For a detailed photo process of a typical book repair, click here.
(Please allow about 4 minutes to download if you are
on a modem - a number of photos are included!

Steve has been doing hand bookbinding since 1964.
Contact Steve